3 Crucial Types of Poker Software for Serious Players in 2020
Are you new to the world of poker? Do you want to increase your winnings? You can use some poker software to your advantage if you want to maximize your gains. Whether online or live poker games, these tools will help you take your game to the next level.
If you're wondering why you need poker software, here are the reasons. Firstly, it is an effective assistant when learning game strategy; it helps you analyze your opponents and gain a significant advantage. If you are a serious gamer, getting poker software is one of the most important things to do. Not only do they assist in giving you high wins, but they also increase your expertise. Secondly, these tools have been developed by highly advanced professionals. Apart from considering various betting sites similar to Mr. Bet, you also need to review different tools you can utilize to have the edge over your competitors. 
Poker software is divided into three important types: database software, equity calculators, and solvers. Each of them plays a vital role in your game, and they can help determine whether you win or lose. 
This article will discuss the types of online poker software, poker odds calculator software, and the best poker software for PokerStars. Let's dive in.
Database Poker Software
This one is essential for your arsenal, and it has the following functions:
It will track the hands that you play 

It will give you your opponent's statistics through a heads-up display (HUD) 

It will calculate your stats 
Like every sports game, it is good to review how you played to learn from it. Using this online poker software can help you study your competition to find the leaks and fix them. Besides, looking at your opponent's results, you can scrutinize their strategy to maximize your winnings. The information is stored in the poker software server, which allows you to analyze your situation adapted to the competitive poker world. 
Most professional gamblers and those you will be competing against have database software. These tools will display your opponent's stats while the game is in progress through interactive pop-ups. Once each hand is dealt, the information is updated on the software. This guarantees that you have the latest data to aid in making better decisions when playing. However, you need to be careful when using this feature to avoid making costly choices. If you want database software, you can consider the following: 
Poker Tracker 4

DriveHUD

Holdem Manager

Hand2note 

Poker Copilot 
They offer free trials that you can utilize to see the one that works best for you. Any of these poker tracking software programs will display your performance in all the tournaments and give you an edge by revealing patterns that you can execute.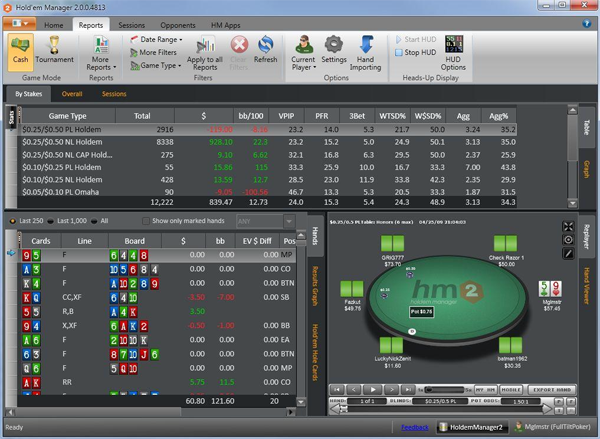 Equity Calculators
The world of poker is extremely competitive, and having poker odds calculator software is one of the ways you can get ahead. Equity calculator tools help you determine how much equity is contained in one hand or several hands against the other hands. Equity refers to the chance you have to win a pot in a given situation within the game. The calculations can be performed on a specific board or a preflop match-up. 
The poker software calculator helps you determine whether your hand contains enough equity to call once you estimate your opponent's range. You can find extra features in poker software calculators, such as the number of times a range will hit on the flop. 
If you are a new poker player or have not been able to master the game, investing in this tool is extremely useful. It assists in tuning your intuition of the number of ranges and equity hands in specific situations. Many pieces of software in this category offer friendly user interfaces with quick and easy to use outputs. For this, the tools to look at include:
PokerStove

Poker Range 

Flopzilla

Equilab

You can also access Cruncher, which is a free poker software limited to preflop calculations.
Solvers
What is the best poker software? The answer is solvers. They can teach you Game Theory Optimal (GTO) strategy, using which you can master your game. They give you the skills that you will need to earn money by exploiting your opponent's weakness. You are also better placed to make adjustments to counter the strategy your contender employs.
Solvers have been a game-changer in how poker strategy is understood. They are one of the best poker software that you can use to equip yourself with Nash equilibrium strategies, also known as solutions that vary depending on the inputs. The inputs could include:
Pot size

Raise size or sizes on the flop, turn, and river

Effective stack size

Best size 

Preflop ranges that are involved
Applying solver software helps simulate various outcomes of the game by trying multiple strategies. This is done under the assumption that each player is aware of other player's techniques. These strategies are helpful as they prevent you from circular thinking, making mistakes while, at the same time, they improve your objective analysis. 
Using this software, the strategies achieve equilibrium after countless calculations where no player can tweak their tactics any further. As a gambler, if you know your opponent's weakness, you can adjust your GTO strategy on the solver to gain even more wins. Solvers are the best poker software for PokerStars as they give hyper-mixed solutions that you can study and create a strong winning concept over time. You can use them to spot trends, especially for flop situations, which you can include in your fundamental strategy. Solver software includes:
PioSolver

Simple Postflop

GTO+

MonkerSolver
Conclusion
One of the sure-fire ways of zeroing in on the best tool is going through poker software reviews. Some may have additional features that you can look at to see which one suits your needs. You can analyze them based on the three crucial types that we have discussed. The software could be database-oriented, which can help you study your games to see where you are failing and seal any leaks. It also enables you to analyze your opponent's stats to know the weaknesses you can take advantage of to maximize your winnings. 
Calculating your odds while playing is also an essential strategy in poker. Choosing the best equity calculator is one way of determining whether you can call as soon as you estimate your opponent's range. More so, using this tool for your poker games will be an excellent way to hone your skills and game intuition.
All in all, a good game is about strategy, and free poker software is a great assistant in that. This is where solvers are incredibly essential. An effective tool will help you learn game theory optimal strategy that you can use to boost your results. It will also keep you from circular thinking and making mistakes by helping with objective game analysis. Please write to us and let us know what poker software tools you have been using for your games. Did you find it useful?
Author's bio:
Thomas Glare is a passionate poker player who is always trying to improve his game. His tutorials and poker strategy thoughts are very helpful. He shows that you don't have to be the best player in the world to profit from poker. If you stick to the basics and play well at poker, you will be able to win games at high enough limits.
There are no reviews yet. Be the first one to write one.